New Patients at Living Well Chiropractic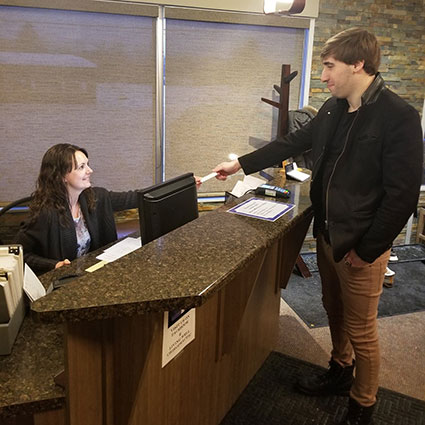 When you enter Living Well Chiropractic for the first time, you will receive a warm welcome. Our staff will greet you by name and offer a short tour of the facilities to get you acquainted and make sure you're comfortable. You'll find a friendly, open and inviting environment. Come in and strike up a conversation with your neighbors while you wait!
As part of our intake procedure, your first three visits will be scheduled as closely as possible.
The Initial Consultation
We ask that you complete the online forms prior to your visit. If that's not possible, we'll make sure everything is in order before your consultation. Once completed, you will be taken in to see the doctor.
The doctor will compile a thorough health history, perform MyoVision nerve scans as well as a physical exam; X-rays are referred out. Everything is explained step-by-step; we don't believe in surprises. Any questions will be answered at this time as well.
When You Return
On the second visit, you will receive the report of findings, review all scans, X-rays and exam results. The doctor will present their recommendations for care and discuss finances.
The patient always makes the decision when it comes to care. If you decide to proceed, our staff will finalize payment options. Please feel free to call the office to clarify any payment issues.
Now, it's time for your first adjustment. The chiropractor will explain the procedure and what to expect prior to adjustment.
Regular Visits and Reassessments
Both the initial and follow-up visit will run about 60 minutes; regular visits are typically about 10-15 minutes. We recognize your time is valuable. We do everything possible to run on time and minimize the impact on your busy life.
Reassessments are done every 12 visits, including scans.
Ready to Book?
Contact our office to make an appointment and get started on the journey to better health and wellness. We would love to welcome your family into ours.
CONTACT US »
---
New Patients at Living Well Chiropractic | (705) 588-4475